Hours of Content & TrailBlaze ToolsTM
Leadership and strategy Tools. Specialized and designed for ERGs in the signature Elevate TrailBlaze ToolsTM format.
ERG ToolBooks and Toolkits
Featuring published ERG full ToolBooks and focused Toolkits over the past decade—all with our practical, trademarked TrailBlaze ToolsTM.
Cross-Industry, Cross-Sector Communities of Practice Plus (CoP+) and Mastermind Groups
Continuing cohorts who share and do-create ERG best and next practices to engage and evolve across industries and sectors.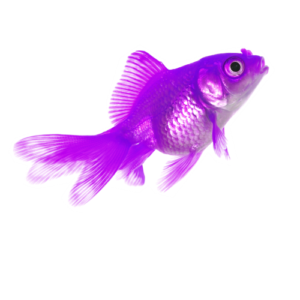 Key questions posed by our partner organizations and beyond, ranked by key criteria.
Featuring primarily success case studies of ERG best and next practices.
Checklist for ERG Governance & Guidelines
The comprehensive checklist to enhance an existing ERG handbook or build a new one from the ground up.
Multiply this with multiple faculty and staff experienced in ERGs.
The inaugural Elevate ERG Summit
Globally gathered and hybrid. Featuring many executive speakers and interactive sessions.
ERG Keynotes and Sessions Delivered for the US Federal Government
The first ever to keynote at both the government-wide ERG Summit and the first-ever government-wide Office of Diversity & Inclusion Summit (with the topic of ERGs) hosted by the Office of Personnel Management (OPM).
We listen carefully to you to assess mutual fit as a partner. Only from there do we customize, curate, or even create solutions.
Clients and Partners Served
Over two decades of servicing ERGs, so you benefit from our extensive experience.
How do you leverage the
untapped potential of ERGs?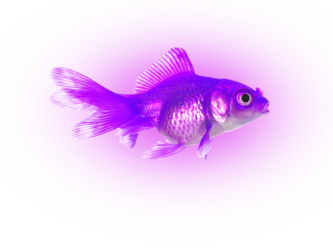 OPPORTUNITIES FOR AND WITH ERGs
PEOPLE:
Dedicated, Engaged & Fast-Focused
56
Increase in job performance
58
Boost in Ability to Correctly Price Stocks and Focus on Facts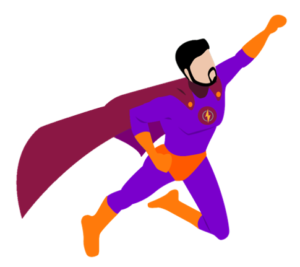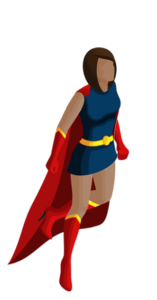 PRODUCTIVITY

:

Cognitive Diversity & Market Advantage Innovation
70
Increased Success in New Markets
1.3–1.5
Higher Patent Citations for Mixed-Gender Teams Than Single-Gender Teams
19
Sales for Most-Diverse vs. Least-Diverse Companies
9
More Sales for every 1% Increase in Corporate Ethnic Populations

PROFITS:
Driven to Bottom-Line Return
36
Financial Returns (Above the Industry Mean with Ethnically Diverse Companies)
25
Financial Returns (Above the Industry Mean with TopQuartile Gender Diverse Companies)
48
Outperformance (of Large Companies with at Least One Female Board Member as Compared with their Industry Peers)
2.5
More likely to report significant stock price increases over the past year
1.5
More likely to report average revenue growth of over 15% for the past three years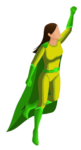 CAREER BENEFITS FOR ERG LEADERS
IN HIGH PERFORMANCE ORGANIZATION
ERG Leadership Development
Many ERG/BRG leaders do not receive the training required to make their groups fully effective. High-performance organizations are:
3
more likely to factor leadership development into ERG/BRG budgets
2
more likely to describe their ERGs/BRGs as experiential career advancement and leadership development platforms
1
more likely to provide training designed to help leaders align ERG goals with the organization's strategic goals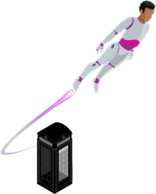 Career Benefits for ERG Leaders
ERG leaders report benefits that i4cp research has shown to accelerate leadership development. In high-performance organizations, they are:
3
more likely to cite the ability to strategically impact business result
2
cite exposure to senior leaders and increased opportunity to build external reputation
1
cite inclusion on interesting or challenging projects
The top four benefits reported by ERG/BRG leaders in high-performance organizations:
Top 1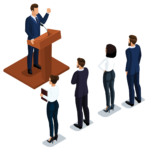 82
exposure to and recognition by senior leaders
Top 2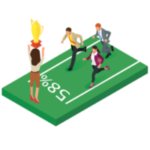 58
opportunity to champion others
Top 3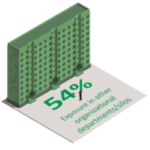 54
exposure in other organizational departments/silos
Top 4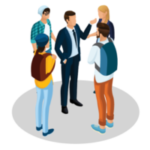 52
increased opportunity to build external reputation
Expectations for Executive Sponsors
A sponsor's primary expectation is to champion the ERG/BRG.
86
executive sponsors to be a champion for the group and its mission
63
executive sponsors to coach or mentor ERG/BRG leaders
5
executive sponsors to observe and source ERG/BRG members for leadership potential
2
the executive sponsor role itself to function as a leadership development opportunity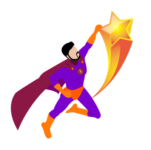 Expectations for Executive Sponsors
Organizations who succeed with their ERG/BRG strategy treat them as they would any other strategic initiative. High-performance organizations are:
4
describe their ERGs/BRGs as critical voices in fostering a more inclusive workplace
3
assess or review ERG/BRG effectiveness at leadership development (Few do this, but those that do measure promotions and movement)
2
report that ERG/BRG leadership experience has a positive impact on selection/succession decisions
2
describe their ERG/BRG as respected by the organization's leaders
2
describe their ERG/BRG as effective to a high or very high extent

WHAT OUR PARTNERS ARE SAYING?



The ERG Economy is an essential read and a key tool that all forward-thinking ERGleaders should use. If you want to grow and your ERGs to thrive, this is the book for you!

Wil Lewis

Chief Diversity, Inclusion, and Belonging Officer, Experian
The ERG Economy challenged me to continue building collaborative ERG organizations and harness their creative en-ergy to support our organizational objectives.

Ondra Berry

Senior Vice President, Talent and Performance, MGM Resorts International
The ERG Economy training is the best I've seen in my career as a D&I professional. The training is fun and interactive and provides a host of valuable tools for ERGs to reach the next level

Sarah Helm

Head of Diversity and Inclusion, Discover Financial Services
ERGs can be a lightning rod for recruiting, retaining and energizing company employees. The thoughts and ideas by the ERG Economy provide you with leading practices to ensure your ERG is the lightning rod for company and personal success.

Larry Harrington

Vice President Internal Audit, The Raytheon Company
For anyone leading a people-powered organization, The ERG Economy is an essential read.

Sean Gil

Director, Career Center, University of California, Riverside
The ERG Economy provides GPS-like guidance to move you from merely sustaining to success as an ERG leader or Diversity professional.

Emanuel Brady Jr.

Vice President and Chief Diversity Officer, The Raytheon Company